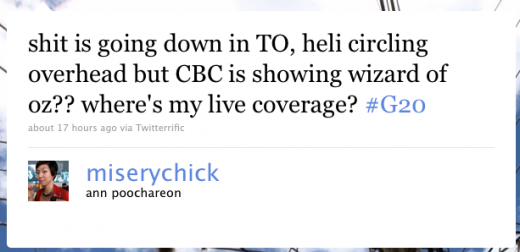 It was a major, historic event in downtown Toronto, right next to the CBC building, and TV-watching citizens were asking: where's the CBC?
Quite simply, Twitter & YouTube & TwitPic & Qik kicked the shit out of them. A handful of free tools that didn't exist 5 years ago just pwned your half-a-century-old billion-dollar National Television Broadcaster.
This might have been the weekend we all realized that TV news is too slow, too old, and too clueless to report on important, breaking local news. The web is much faster. Hell, even radio is faster, including CBC Radio. CBC Radio blew CBC-TV out of the water.
But CBC-TV was never with it. They missed the story, when it was right front of them as they did a voiceover. It was like they couldn't process what was in front of their own eyes. Despite years in the business, with more training and experience than anyone in TV in this country, they were useless at reporting what was happening in their own streets.