Just like Rodney Dangerfield, it's tough for Jian Ghomeshi to get any respect.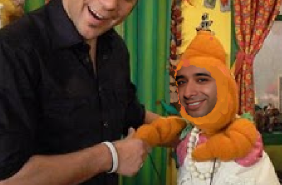 George ended up with the time slot that once was his, while Jian does a show that is basically The Hour on radio but with better guests, though no billboards to promote his dimples, nor live audience to applaud his grand entrance each day.
Still, there's always some comfort to be had knowing that George's star on the Walk of Fame won't be any bigger than his. And he did score the big exclusive interview with Leonard Cohen.
Even bigger, people all over the world got to see his encounter with Billy Bob Thornton, and fans everywhere rose up to applaud his composure.
Not that 2,160,760 hits on YouTube did anything for his career. The encounter was, after all, a fluke.
Academy Award Winner versus Lying Bastards of the CBC.