Our friends may not have lost hope, but everyone else around them has. Well at least many of us who have no stake in this shit and shake our heads at the money being spent. Who are we? We are workers, we are management, we are viewers, we are listeners, but mostly we are all twits.
See what happens when Joe loses his super user editor rights? All the twits start showing signs of dyslexia. And much like poor spelling online, you can find negative reaction to the new CBC News pretty much anytime you look.


Maybe that's what's going on. The easiest way to "go viral" is to make a jack ass of yourself.
Indeed some of the monitors at our desks are so old that the contrast makes many twits practically unreadable.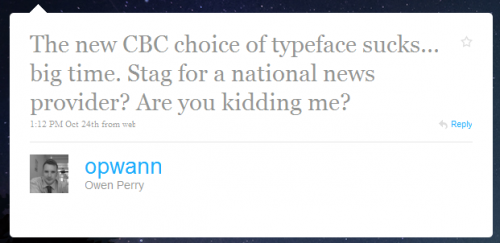 Well that explains part of it, at least you know when the font is criticized that even the parts you thought were good are in fact not.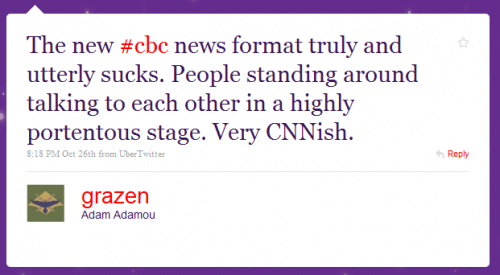 I thought it all looked familiar. Yet who would like that sort of thing?
Bingo. Can we say target market?
Wouldn't it be even more cute if Mark appeared via hologram? He's tall enough to pull it off.
Hey, that's our job. Good advice though, let's see what we find.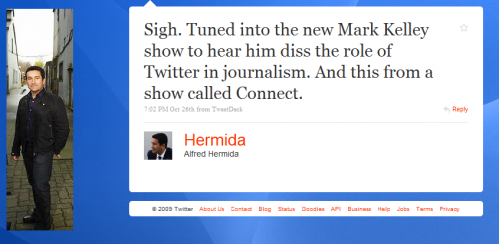 Oh noes! Dissed by digital news pioneer @Hermida
Not to worry, the King Twit and Queen Twit have welcomed you. That should get you in with the digital news pioneers.
There ya go. That's how social media works. Engage your critics, and turn a complaint into an endorsement. That should translate into followers.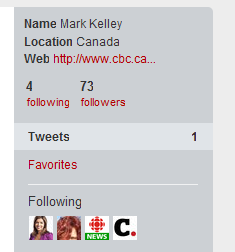 Oh, I see your problem. You're only following 4 twits, rather insignificant ones at that. Why not try a service like Twollow.com which allows you to build your followers without having to use or understand the twit machine. Cheaper than paying PR companies to try and tweet your case.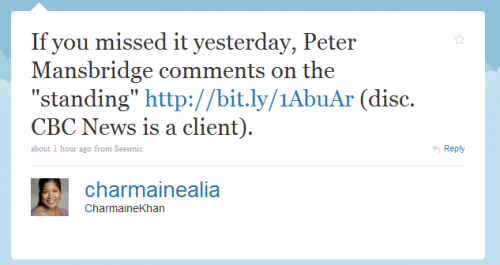 So even as with Peter you're just not interested in really being on Twitter you can have your flacks tweet a link to your post defending the new standing quo where the comments I'm sure are more favourable than we twits.
Oh well. Let the twits fall where they may.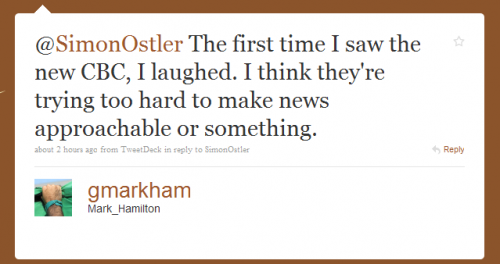 Instead, if they really want to be approachable, they should have the guts to do what the real early adopters do, include GPS co-ordinates with their complaints so if you have a problem with it you can take it right to them.