I guess it won't be long now.
The boy is riding Billy Bob's gravy all the way to LaLaLand. Or maybe he just wants us to think that? Anything is possible in the Tweethole. But the clues are all laid out before us. We just need to read them.
One dirty tweet at a time.
Jian is excited about something. Not sure what it is, but it's possibly inspiring! Or fascist.
Clearly, he's a man caught in ticking traps. No amount of conformity will hold him now.
And they love him down there! Especially former MuchMusic VJs. They're all abt the Q.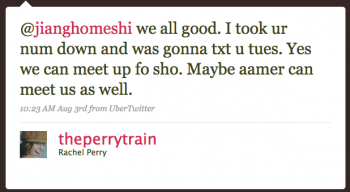 He has a date already, fo sho! It's going swimmingly, except for that cockblocker Aamer!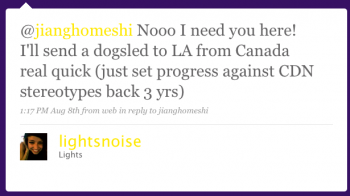 And his protégé? She can fend for herself. She's getting a little clingy anyways.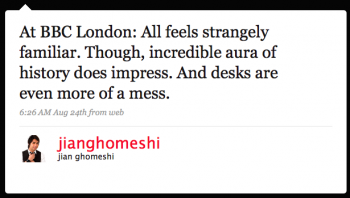 But you see, he's more than just a pretty, frustrated face. He's a thoughtful intellectual. Of course, the CBC has a lot of history, too. It's just not so interesting as British history, which is the real history.
As they say, Canada's loss is America's loss.
Good luck, Jian! See you in the funny papers.
(Hey, Twitter people! send your fine tweets to tweet.makers@gmail.com!)