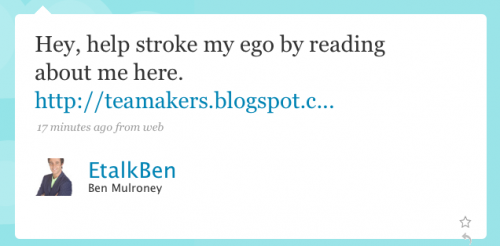 EtalkBen, If only we'd known that your time would be short on this earth. If only we could have known that we were in the midst of a Golden Age of fake Canadian celebrity tweets, perhaps we would have appreciated you more.
The media was intent on goading you, but I always understood you. You used your tweets to turn the mirror back on all of us, so that we could truly see ourselves for the first time. You broke down the barriers for all those that followed.
Now it's all too late. Your account has been suspended and snatched from us way before its time.
We continue. Somehow.
petermansbridg is the Usher of the fake Canadian tweetosphere. Competent? Yes. Safe? Absolutely. Gentle? As a White-browed Tit. The author is, no doubt, a student of yours, EtalkBen. And in your absence he's all we have left.
There may be hope for him yet. Let's keep an eye on this one.
I believe she can be reached at up.yours@cbc.ca. That's a dot, not an underscore.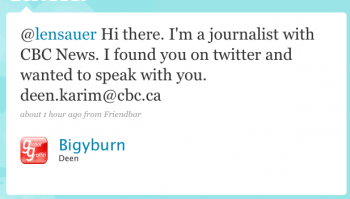 Well, I guess this goes both ways and the first time I saw journalists on twitter doing this I was taken aback. Now I could fill a whole blog with them if I was so inclined. A whole Tumblr. And aim for a book deal. Don't steal my idea.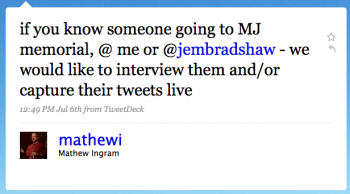 Someone should tell Matthew Ingram that "tweets" is just a euphemism. They're not really birds. You "capture" them by putting your hand down the tweethole, grabbing anything you can find, and then printing them in the newspaper.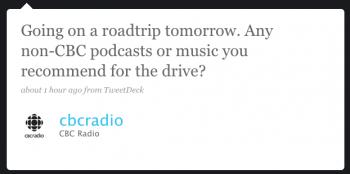 AC/DC?
It's kind of technical, kaleemux, but the gist of it is: you don't drive like her, so why are you paying the same insurance premiums as her?
Indeed they may! Then again, they might want to let the issue play itself out.
Anyways, there's a Canadian Trucking magazine? Who says Canadian media is in trouble?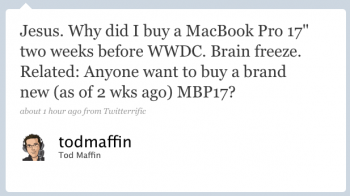 The Futurist business, on the other hand, has seen better days.
As has the Internet Tough Guy racket.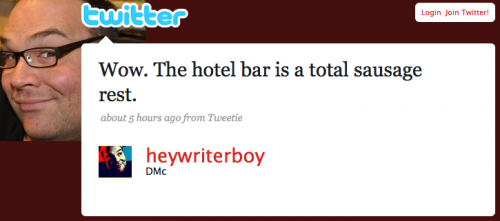 The Newfoundland Drunken Writer Mafia is also seems to be losing some of its glamour.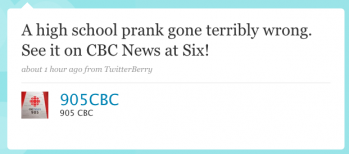 CBC News in the 905, however, is all systems go!