Welcome back, web 2.0 social media fans!
Unfortunately, there are no twitter blockings to report this week. But we roll in stealth mode these days, ie: not logged in, so we might've missed one. If you're blocking us, or spot a prime tweethole in the wild, be sure to DM @teamakers so we can get it squared away.
All right then, let's get into it.
No.
Joe Clark, is that you?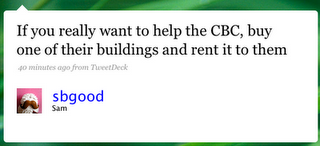 CBC/Radio-Canada Vice President of Real Estate Michel Saint-Cyr, is that you?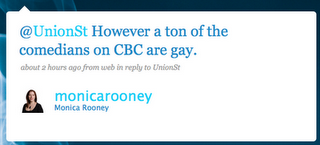 Not that it's any of your business. However I have it on good authority that a ton of people on CBC radio are Negroes. And HR? All Chinamen.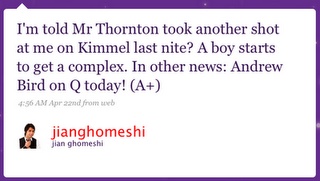 Don't take it personally, Jian.
And in other news: who the fuck is Andrew Bird? Send me a tweet when you get Big Bird.
I love me some social media, but there is something unsavoury about seeing a CBC Radio Producer whine like a bitch in the comments of YouTube.
It just doesn't seem all that Canadian National Broadcastery to me.
Let's move on.
I said let's move on? Can we talk about something else besides bodily fluids and Jian Ghomeshi? I'm reading this on my lunch hour, for Christ's sake.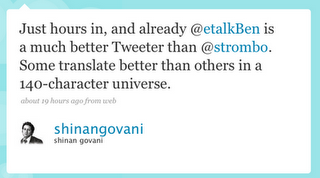 Ben better than Strombo? Hard to believe, but I'll be the judge of that.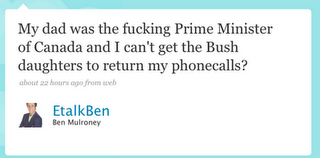 Heheh. That's pretty good stuff.
Hahah. Is this for real? This guy is on fire, whoever he is.
Dude is tweeting Chinese fucking links.
Forget about better than Strombo, he's the Goddamn Twitter Grand Master.
Respect.