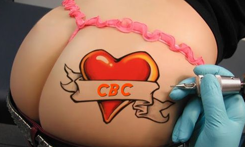 It's taking an unusual step to address a fellow blogger directly in a post but … this seems like a most appropriate time to say that your contribution at Tea Makers has brought so much joy to all of us. Truly, you light up our lives.
Personally, you become only more endearing when you interrupt one of my lengthy opinions about the CBC with such questions as …
"How much longer do I have to keep pretending I'm not bored?"
Pour vous …
For everyone else, here's an assessment of Valentine's Day by the one and only Howard Stern and his radio partner Robin Quivers.
As with most of the vocabulary on Stern, this audio clip is NOT SAFE FOR WORK!
lion sleeps – howard whines about valentines day
Enjoy!