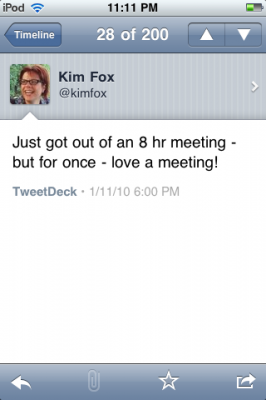 This tweet came my way recently and all indicators point to it being legit. Kim Fox is a social media producer for CBC News. The Tweet was written at the end of a workday, and written with Tweetdeck, the tool of choice for the social media douche. Everything seems up-and-up.
The tweet gives us a rare look into the workday of the corporate Social Media Guru at a national news organization. An entire workday taken up by a single meeting. This blows my mind. And by all appearances the producer is pleased with a productive day. Love a meeting!
Now, considering that a well-crafted, well-researched tweet could take 30 minutes to compose and distribute, and considering bathroom breaks and meals take 2 hours, that 8 hour meeting about social media could have resulted in 12 solid emissions from the Tweet Department. Not counting retweets.
Now, I don't want to pick on Kim Fox, who is probably a hard-working woman, and who has graced our pages before.
But for the love of God, is anyone at the CBC reading this? Or are you all at meetings?