Look, the weekend is here already!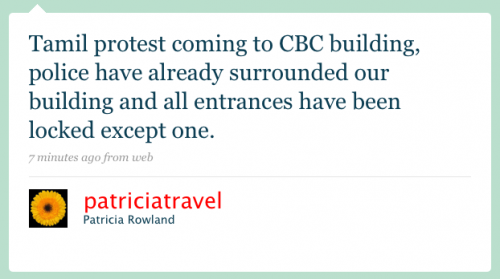 A Tamil youth protest is expected to gather at the Canadian Broadcasting Centre today at 12 noon. In anticipation of this, all entrances to the Broadcasting Centre will be locked except for the John Street entrance. You will need your photo ID on your person in order to enter the building.

Police and RCMP officers will be present around the building. It is unknown at this point how large the protest will be or how long it is expected to last. We will keep you updated.

– English Communications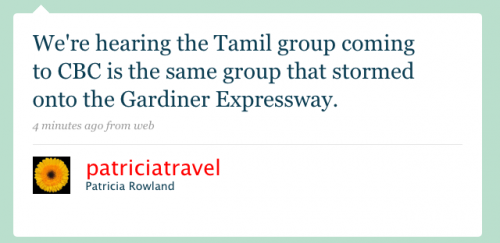 Meanwhile, in CBC New Media…
AFTERNOON UPDATE:
The suspense is killing me.
To all Toronto Staff:

It has been approximately one hour since our initial communication.There has been no protest activity as yet; however, we have received information that another Tamil protest is being planned between 4 and 8 p.m. today, so we are staying in partial lockdown until further notice.

Please remember that all entrances are closed with the exception of the John Street entrance, and that you will need your photo ID on your person in order to gain access through that entrance.

Police presence is being maintained for now around the perimeter.

Thank you for your co-operation.

English Communications