And look at you, still in front of the computer. You're not alone, sister. There's you, and me, your boyfriend, and what's left of the tweethole.
Come right on in, the water's fine.

What are you implying here, Bill? I'm not sure but I'll bet me Lucky Charms® and me Diet Pepsi MAX® that I can knock that self-satisfied smirk off your face.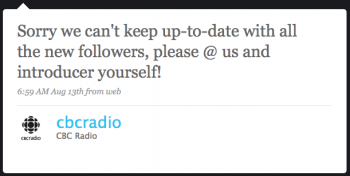 Can't we just sit here and listen to the radio without all this participatory crap? Two-way medium my arse, play some Heart of Gold whydoncha?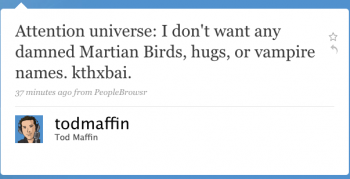 The life of a social media expert is one of a million annoyances, many of them originating from social media-using gen-Y'ers that the expert makes a living telling large corporations how to woo.
Don't you losers get it? Stop harassin' Maffin!
Speaking of Tod Maffin, it looks like his auto-tweeting robot is on the fritz again. This is not the CBC you're looking for.
And there's that busybody Bill Doskoch again! He must be getting a real kick out of all this.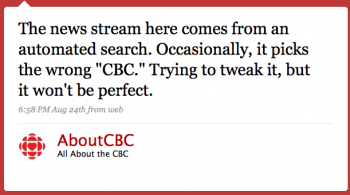 "Occasionally"??? Does that robot even know how to spell "CBC"?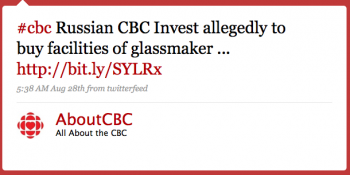 I guess in this case, "tweak it" means "do sweet fuck-all."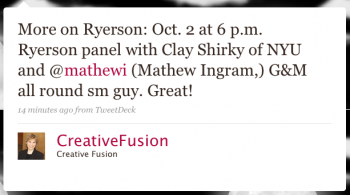 As a matter of fact, he is an all-around small guy, but you don't have to rub it in, Creative Fusion.

We all have to test Twitter from time to time, no shame in that. It might not be working, right? How are we to tell? Even Susan Ormiston 2.0 does it, whose Web site, nominated for a Gemini for "Best Cross-Platform Project" prominently displays a "Test Twitter" tweet on the front page. 51 days old.
That's some cutting-edge stuff right there!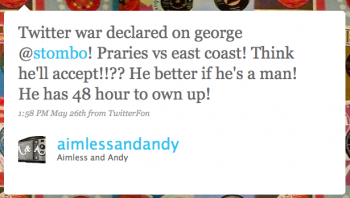 What do you want to bet that our man Strombo totally ignored these Winnipeg douches, who can't even spell "prairie" right? I don't even need to Google it, and I can tell you that this manly challenge ended up one big fat zero.
Actually, that's not very humorous at all, Emily. In fact, I've forwarded this Tweet on to the Human Rights Commission.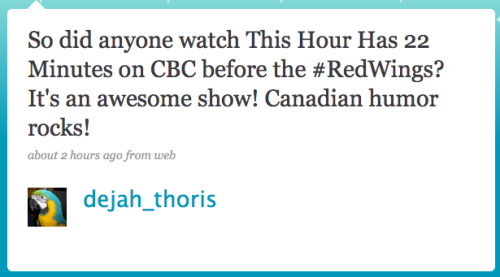 It does? I mean, HAHA! I'll say!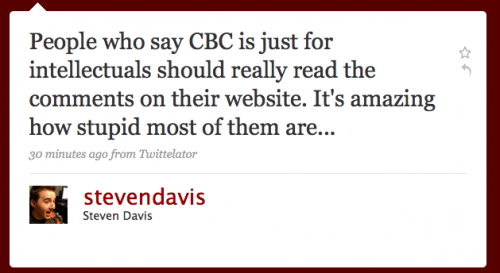 People say that? Who are these people? Obviously readers of the tweets of Steven Davis.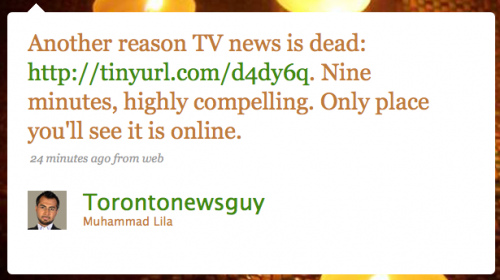 Muhammad should know. After all, HE WORKS IN TV NEWS. For now, anyways.

You got the right idea, Harsimran. Meet me at the Black Bull?