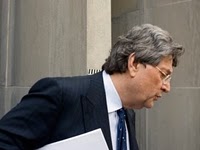 Drabinsky's "success" was complete and utter fakery, yet the the print scribes won't denounce him. They easily forgive his swindling, of pocketbooks and minds, and call him talented. He even writes a book about himself, which despite his lame attempt at humility nevertheless reveals that anything he did that was worthwhile (rarely) was quite simply, a fluke. He just wanted to grow up and become important in some way, and the glamour and excitement of show business is a very good cover for ineptitude and a weak mind (Kiefer Sutherland, e.g.).
He had nothing to offer but bluff, yet over the course of the years that he was pretending to know what he was doing he gave out enough "favours" to the media leeches that they still feel beholding to this charlatan.
He's a convicted criminal, but the management of the CBC has no qualms about giving him a platform of legitimacy and respectability.
As if it were still yet to be conclusively proven that he is a bald-faced liar and a crook.