Who you calling tech nuts, Dianne Buckner?
Look, I don't have any time for the Facebook Phenomenon right now. I'm right in the middle of the Tweethole Meltdown. And I've a whole bag of tweets to get through before the Amazon buys twitter and teamakers and puts it all on the Big Kindle and behind the paywall.
There's not a second to spare, so let's get started.

Don't touch that dial! If you liked the Swine Flu, you're going to love The Border.
Who doesn't love them? And I think you'll find that they're normal people, just like you and me.
Well, maybe more like you than me.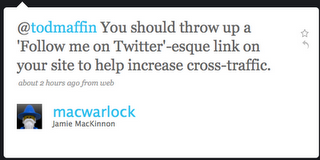 Is it possible that Tod Maffin has missed an opportunity for cross-promotion somewhere? Download my podcastable eBook to find out!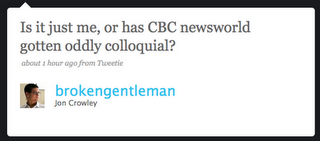 I'm not sure I'm grasping the gist of your inference, homie.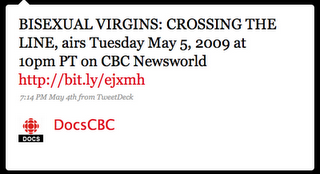 See? Only part of that is in all caps.
If this is what a discussion on twitter about the future of journalism looks like, you can let me off right here plz.
Remind me to steer clear of the bathrooms near the Documentary Department today. Waaaaaaay clear.
Let me guess: because it sucks ass?
I couldn't agree more. Were pitchforks involved?
Me, I like to watch people weeping out of futility in my spare time. And you really want to warm the cockles, we'll call you down for the next lockout! Good times.

Just come home already, JD. You know you want to. I mean, really – CNN? Get real.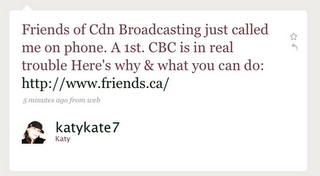 Actually, they call me all the time. I think they're just lonely, especially Ian Morrison. And he never shuts up! Always on and on with the American cultural takeover and the Harper agenda yadda yadda yadda… look, I'll subscribe to your video podcast of Ian Morrison speeches overlaid with photos of Ian Morrison and your Ian Morrison Facebook page and Ian Morrison newsletter if you'll just leave me in peace for 30 min to watch Wheel? Sheesh!
A fine gentleman like Jonathan Goldstein has no patience for the fripperies of twitter and the hackneyed phrasings of blogs, I assure you. If you wish to contact him he can be found every second Tuesday holding court around the fire, sipping sherry.

However, it might also be fruitful to consult the Google on these matters before broadcasting your query like an arse.
Who doesn't love pirates? Well, except from the people they rob, rape and kill? Otherwise, bring them on with this timely promotion!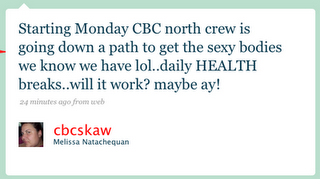 No offence but I'm going to see how this works out before I submit my request for a transfer to CBC North. Call it a hunch.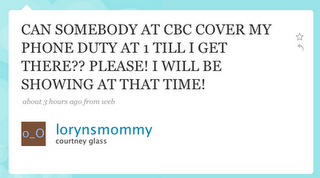 Calm down lorynsmommy, and stop shouting. Teamakers has got you covered. Just go ahead and show what you have to, I'll answer the phone. And if Ian Morrison calls I'll pretend I'm not home.