Today's town hall was the most tweeted CBC event in recent memory. These tweets have a special significance for those of us in Canadian media, as we are constantly told that we are dinosaurs and in the future all our news will be tweeted by real people with no agenda and you won't even need to think about it or pay for it, it will just be there and better than anything we could do with a billion dollars.
So how's that working out?
WTF who let this clown in here? You're not helping, Mr. Duong.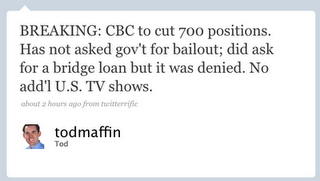 You know the world has gone mad when even the veracity of a Tod Maffin tweet is suspect. God help us all, and #FAIL.

No.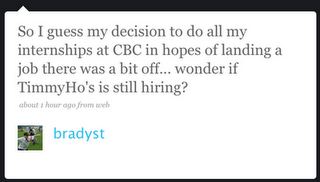 No.
No.
Look, are there any serious questions here?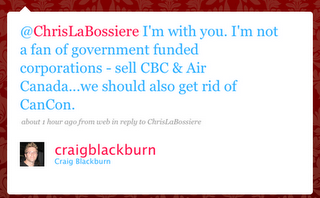 Yes, it's clear that Canadian content must be destroyed.
I'm not going to click that link but I smell a Facebook Group behind it. Just a guess.
From this tweet forward, you shall be known by the nickname "MacFail."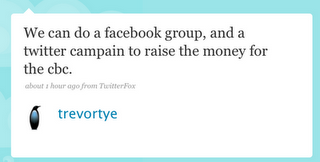 Aw, bless your heart, li'l trevortye. Now, have you met justinsb?
So stupid it needed to be "retweeted." Ok Twitter, I give you one more chance. Give me a reason to read any of this junk.
Thank you.