It's a well known fact that on any given moment there are at least 3 Technology Conferences or Unconferences going on in Toronto at once. These are places for underemployed nerds and "Social Media Experts" to gather and discuss the future. This future usually involves their services.
They must, at all cost, be Twittered. This is the nerd equivalent of the concert t-shirt. It proves you were there, even if you weren't paying attention because you were too busy Twittering. It also gives non-attendees a chance to follow along disjointedly.
So what happened at the Interactive Exchange earlier this week?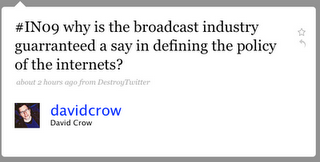 Oh Christ.
Hey Mr. Crow, because we own everything, ok?
We better keep an eye on this guy. I don't like where he's going with this. The RCMP should also be kept abreast of his tweets. For realz.
What is it with these kids? It's not just the typos and the tortured syntax. We get the gist. But we can't even not give TV away for no charge anymore without that NOT being like a bonus?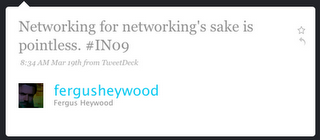 I'm going to go out on a limb here and guess that this guy doesn't have many friends.

"Stursburg?" You mean "Richard Stursberg?" At a conference about innovation? This I gotta see. His greatest innovation so far has been his ability to take hundreds of millions of dollars and turn it into dog turds that can be broadcast on TV.
Yes, the only way to make money in the content creation game is to rent out real estate. We all know that.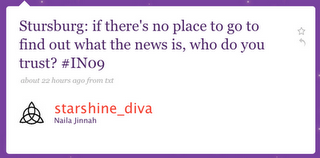 The Tea Makers blog, of course. And John Gushue's DOT DOT DOT.
Obviously "Stursburg" is speaking out of admiration here.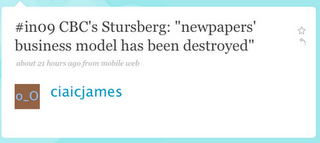 Delivered with glee.
Does this surprise anyone? Wake up, dday10! And click a banner ad on CBC.ca while you're at it. It wouldn't kill you, for Christ's sake.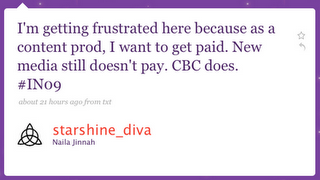 This week, at least.
For what it's worth, I think the feeling is mutual.
My feelings exactly, nerd.
Hey, want to go get a drink and do some networking for networking's sake?