With a hiring freeze on non-essential senior managers and the chilly no-party zone that is the CBC this Christmas season, it might warm you up to look back on a time when holiday-themed promotional animated gifs flowed like unused drink tickets in the Atrium.
In these frugal times recycling old sentiments seems not just natural, but mandatory. So gather your coworkers 'round the monitor, and enjoy this digital ephemera from Our Past.
We're all in this together, so Merry Christmas.
A classy bilingual number from Bill Chambers, 2005:
Holiday promotion, 2006: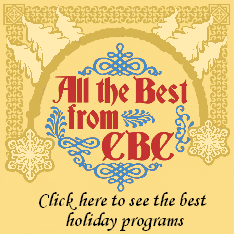 Technician's strike, 2001: