Here's Grace Park, whose performance as Boomer on BSG all the fanboys are salivating over.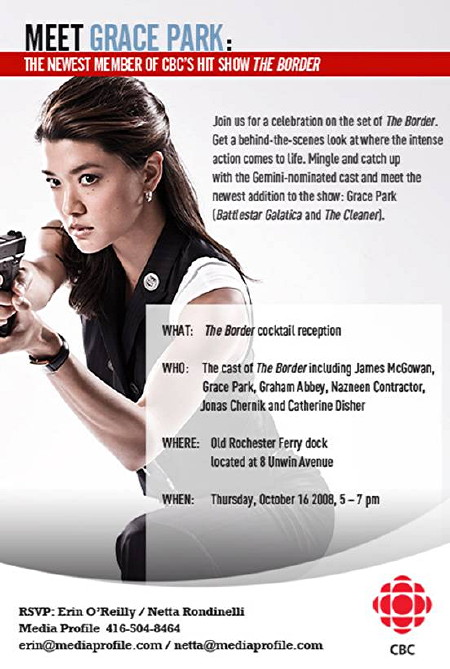 She's such a pistol!
You knew she was "guesting" on The Border, right? Well, she is. And there's a cocktail reception tonight – at the abandoned Rochester Ferry terminal, 8 Unwin Ave., from 1700 to 1900 hours. That's the scale-model simulacrum of "the airport" that is used on The Border. It rents for $2,500 a day – more than its daily income when the Rochester catamaran was actually serving it. (The building itself cost $12 million.)
Naturally, I RSVPed: "I'll be there."
Erin O'Reilly of CBC public relations Media Profile wrote back: "Great Joe. See you there."
Late yesterday, I suddenly received the following from Erin's apparent superior, Netta Rondinelli (top-postings elided): "We don't have your name on our invite list. This is a Border media event."
I wrote back: "I already RSVPed and I'm going. Unless you want to instruct me in writing not to go, which I will duly report."
"I'm fine with that," she wrote. "This is an invitation-only event and your name was not on the list."
"Then put me on the list," I replied. "Be honest about what you're doing: Intentionally excluding me. Fine with that too, Netta? Because that'll be reported too." Whoops! No response to that one.
I also asked CBC spokesperson Jeff Keay a question for attribution:
Did you or did anyone at CBC instruct anyone at Media Profile not to invite me to CBC press events or, in particular, disinvite me if I RSVP to an invitation to such an event?

Further, are there standing orders to have me removed from the premises if I attend anyway?
Radio silence there, too.
I do a better job promoting the CBC than Media Profile does. The Tea Makers is a legitimate news outlet (even if you liked Tea Makers Classic better). If Dead Things on Sticks is legit, this sure as hell is.
Media Profile is known to call up reporters and complain that their coverage was too critical, implying that the reporter was a guest there, hence a full-on rave was expected. Knowing that, what actually happened the last time I attended a Media Profile–sponsored event for the CBC? (Apart from giving the PR girls my card and asking them to send me everything they have from then on?)
Say hi to Fatboy for me, I guess. This is how low they can go, Den(n)is.