Des kiwis et des hommes is a seemingly inexplicable title for a show. It means Of Kiwis and Men; Of Mice and Men is Des souris et des hommes, and kiwis rhymes with souris.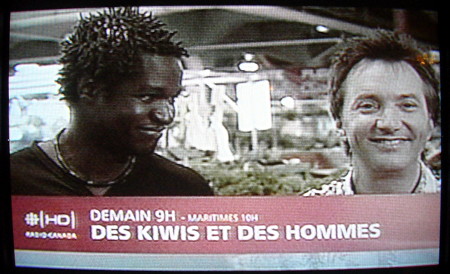 It's a curious cooking-cum-chat show. Maybe the most curious thing is its cohost, Boucar Diouf, who, as a black person who speaks French, jams pure-laine circuits. Quebeckers are ahead of Ontarians on a lot of things, but behind us where it counts, like living in the 21st century. Racial pluralism is still a rather new concept there. (Oh, am I guilty of stereotyping? So are they! Just mutter the phrase accommodement raisonnable in any tavern on rue Ontario est and lemme know what happens.)
What interests me when I travel is not just that the people are different, but that the mixture of people is different. Many more Latinos in Texas, of course – that isn't surprising after the first ten minutes. But black people's migrations to different places over the centuries mean black people look different in different cities. Diouf's appearance, for example, would be atypical for Toronto, with its large Caribbean and Ethiopic base. (He's from Senegal.) It probably freaks out the old Quebec tribalists even more. And what is up with his hair? (RuPaul: "BLACK… HAIR… IS… a revolution!")
Anyway, on each episode there's the kind of roundtable segment that, according to one review of Olympic coverage, is a mainstay of Radio-Canada programming. Then we get cookin'! In lieu of a giant modesty panel below the counter, it seems we have a see-through fridge.
(That's shitty French live captioning, by the way. Note the lack of accents other than é.)
They run this thing five days a week. But which would you rather – this or Steven and Chris?