The myth of citizen journalism holds that everyday people can provide first-person accounts, for free, upon relinquishment of all rights to major media monoliths. Do I have that correct? Or maybe the myth holds that you can report on your own blog and rake in the dough via Google AdSense. We can pretty much dismiss the whole idea.
But I keep reading of journalism professors (who may have additional ways of earning a living) who tell J-school students that they really must interpose themselves into their stories in some way – at least for feature articles. (Actually, now that I think of it, there's a new book out on the topic writing magazine features. How unappealing, even quaint. Would you also like to learn how to send a telex to the King of Siam?)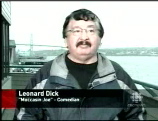 Slowly these ideas are infiltrating "the mainstream," and every now and then, like the darling buds of May, they pop into view and provide satisfaction and cause for optimism. CBC Toronto cub reporter Michael Dick (no relation) inserted himself and his dad into a journalistic piece about the PM's aboriginal apology (Quicktime or Real videos). It was on topic, it wasn't gratuitous (in fact, it was the obvious thing to do), and just maybe it's a future norm of journalism. Tomorrow's reporting today.
There are good reasons to keep your eye on Dick apart from his well-chosen, vacuum-packed wardrobe. (Well, that was my impression the one time I walked by him.) Just watch him get poached by somebody "better." That's always the way, isn't it?