1995: I was subscribed to the SloanNet mailing list, which, despite the name, was all about East Coast music. (This was before mailing lists were destroyed, as by Ebola, through top-posting and HTML mail. In other words, by assholes using Outlook. Like you? Oh, wait, you've got it even worse: GroupWise.)
We were younger then, were we not? The kids on the list were putting together a compilation tape (tape!) of cover songs under the title of Les amis du Sloan. (Yes, du. We couldn't talk them out of it.) In the present day, I see members of Sloan pushing a stroller (along Queen West) or exiting the Spadina streetcar (at Queen West).
But wait a minute here: You can't imagine I'm about to leave that MVP tie-in to die on the vine, can you? Especially after the "nod" from Eustace Tilley (q.v.)? (If you're joining us late, "Who Taught You to Live Like That?" by Sloan is the MVP theme song.)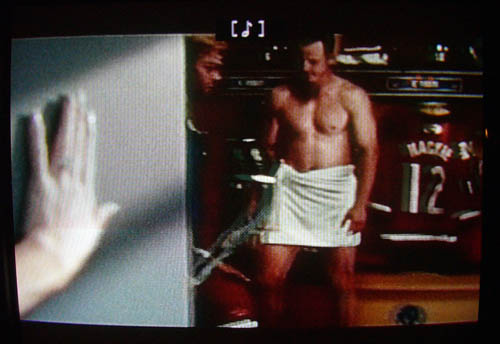 They don't even caption the song lyrics. Typical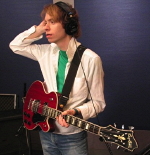 After various wranglings, I got ♥ADORABLE♥ moppet JÄŸ FËRGÜSÖN on the E-mail. (It was either E-mail or… MSN!) After untangling his top-posted E-mail (another reason not to do it), I am now able to present a superspecial, ultra-exclusive INTERVIEW WITH SLÖÄN.
Of course one expects rock to be hot! and sexy! but did you expect "Who Taught You to Live Like That?" to be associated with hot, sexy, hairless, six-pack-ab-equipped hockey players? Like, ever in a million years?

No… yet even though it had little to do with the subject matter of the song, I think the chorus worked well over the montage.

Which is the greater endorsement – the one from the New Yorker or the one from Fresh Air on NPR?

Hmmmm… I hold both in esteem… but perhaps New Yorker wins by a nose due to their font. OK… well… just listened to the Fresh Air review… nice… the NPR font/logo is not too bad either… so maybe it's a tie. Although we had a cartoon of us in the New Yorker in 2007 , and that might just be the highest accolade.

The "album cut" opens with the last notes of the previous song, sort of like an oldskool vinyl LP. But! The MVP version hacks and mangles and reëdits the song as though it were in a Procter & Gamble commercial or something. How do you react to this flagrant abuse of the creator's moral right?

I thought it was touching. And appropriate… I mean, who really listens to "verses"?

Is this song gonna be your largest single source of U.S. royalties?

It'll be a close race between that and licensing "Flying High Again" to America's Funniest Home Videos.

What other TV shows, if any, have used Sloanmusic™ as a theme? (Sadly, I know about Everything's Gone Green. But that isn't a TV show. Thankfully.)

Hmm… well the forementioned AFHV… various MTV shows like Cribs, etc. Umm… Undergrads… DeGrassi… another show that was an O.C.-style classic with Beach in the title . I think they used "False Alarm"… More over the years that I can't remember… quite a few… And a number of films as well… The Virgin Suicides is probably the most well known.

Does the MVP opening music threaten to become the next television theme song that hipsters declaim ironically, viz "I don't want to wait for our lives to be over"?

We can only hope.

Wrote what thesis?

On the subject "How to Rip Off Bob Dylan and T-Rex Boogie Woogie in Around Three Minutes."

Do you even like hockey?

I loved hockey growing up. Never played. Had season tickets to the Nova Scotia Voyageurs and still have my photos of me and Moe Robinson (Larry's younger sibling)… but then John Lennon died and music wiped the slate clean of all other interests.

Sloan groupies and puck bunnies: Compare and contrast.

Our groupies are the moms who drop their puck-bunny daughters off at the hockey game before coming to our show.

What we have here is a big splashy CBC show (not an oxymoron anymore) that got shitcanned, then picked up by a small splashy U.S. "network." What does that tell you about the CBC?

That they should show The Beachcombers reruns more often. I honestly miss that show… and will also miss season 2 of MVP.