Newly discovered fossil of Tyrannosaurus rex eating an angel complicates Creationism debate
Yes, CBC's response to a CRTC proceeding vaguely concerning the Internet really is as bad as people say it is.
The [T]he Corporation is meeting the changing needs and preferences of Canadians via its 29 services, including traditional television and radio, the Internet, satellite radio, podcasting, cellphones and PDAs.
The Corpse is selling iPhones now?
ver the last decade per-capita hours of Internet use have increased to 10 hours per week while total weekly hours of usage of TV and radio, together, have remained stable.
So people have their Internet turned off at work 30 out of 40 hours a week?
During how many of those 10 Internet hours per week is the TV also on? We knew about two-screen viewing as far back as 2001.
The Internet simply provides people with another tool to personalize their consumption of video and audio content: Broadcasting content found on the Internet does not provide a replacement or substitute for traditional broadcast media, particularly entertainment programming.
Except of course for those people who watch all their TV shows on DVD and who pay to download BSG every week on iTunes.
or the average Canadian, broadcasting content found on the Internet is not a replacement or a substitute for traditional media. Internet usage is replacing some activities in Canadians' lives – but not their usage of television and radio.
Nobody said anything about "replacing," and anyway, we aren't talking about average Canadians. The group that gets all its news and entertainment from the Web first is invisible to CBC mandarins. They're exceptional, not average – except they are average for people under 30. CBC mandarins don't know anybody under 30. Even their kids are older than that now, and have their own kids at McGill doing a master's in museum studies.
E-mailing, instant messaging and social networking are Internet activities that serve to replace other more traditional activities, such as physically meeting or talking on the phone…. These are the types of activities that are driving Canadians to spend time using the Internet. They are not activities that are substitutable with TV and radio usage: These activities are completely different the time spent with traditional media.
Again: We're not talking about substituting the Web for TV. For a lot of people, it's already happened. But as long as CBC acts like that isn't really happening, it certainly will.
I need to remind you of Clark's Law of the New York Times: Any media organization that doesn't act as though it is about to be replaced by the Internet will be.
"Professional video content"
This is the part that kills me:
Virtually all of the professional video content that is being consumed on the Internet continues to originate from traditional media. Conventional television broadcasters… have a cornerstone role in creating original Canadian television content for all media platforms.
Only because they're too incompetent to put anything decent online.
Listen: How many gumtoothed news-parody shows is the CBC running? Two? Down from three?
How many of these shows are so chummy with the power structure that they waltz into offices on Parliament Hill bearing swords and have sleepovers at 24 Sussex?
Creationists must be right after all – Darwinism cannot explain why invertebrates jump the evolutionary queue and get their own TV shows. I certainly didn't know they could get two more shows, functionally identical to the first and all competing for food in the same ecosystem.
Then what comes out of nowhere? The Onion News Network (also at iTunes). No goddamned captioning, but nothing online has captioning. Except when they do fake captioning.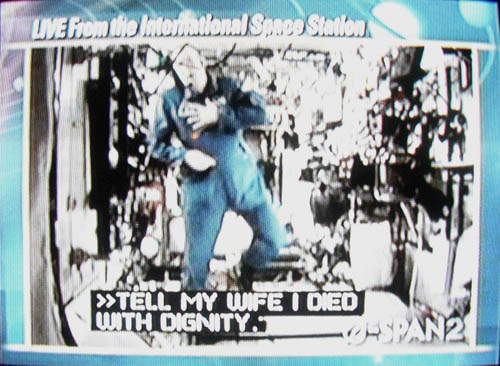 It's a news parody, just like the Onion is, but it's "on TV." Kind of. It downloads automatically to my (legit) TiVo via wifi. We watch it on a television screen, but it is not "television" in any sense. It arrives on a computer with an attached display exactly the same way it would arrive on a computer with an attached display. And by and large, it's great.
Congress struggles to come up with cool name for anti-drug initiative
Volatile India–Pakistan standoff enters 11,680th day
High school Tony Awards honor nation's biggest drama-club nerds
U.S. finally gets around to closing last WWII internment camp
Warcraft sequel lets gamers play a character playing Warcraft
New wearable feedbags let Americans eat more, move less
Horrific 120-car pileup a sad reminder of Princess Diana's death
NHL star called up to big leagues to play for NFL team
Even the bad segments aren't as embarrassing as Rick Mercer (note lack of italics or possessive). One of these was so good I transcribed it. We live for the crawling ticker on news reports.
Another segment: "Historic Blockbuster store offers glimpse of how movies were rented in the past."
Try this one for CanCon: "Historic Globemedia Temple (formerly Canadian Broadcasting Centre) offers glimpse of 'television' of the past."
The Onion News Network only exists online, you can watch it anywhere there's a net connection, and it does in three minutes twice a week what 30 minutes three times a week fail to do. The Corpse could have done it. Now it's obvious why we didn't.