When the nice people at Test the Nation asked me to be on the "blogger" team for the 21st century trivia edition, I was flattered. But I'm not crazy.
Instead I suggested 3 others: Joe Clark, Raymi, and regular Tea Makers contributor Allan. Tell me that team wouldn't kick some major ass? Especially in the furry hat, Jimi Hendrix, and TTC Signage categories.
The team has been formed. I see Joe was passed over. So was Raymi. But Allan is there. To my surprise, so is Tod Maffin.
Now, regular readers of this blog may or may not know that Allan and Tod don't always see eye to eye. It happens sometimes. But can these 2 bloggers put aside their differences long enough to outsmart the celebrity lookalikes?
Stay tuned. Taping is in January. Surely someone will blog about this?
And many of you might be wondering, what does Allan look like? And which one of the bloggers from the team photo is he?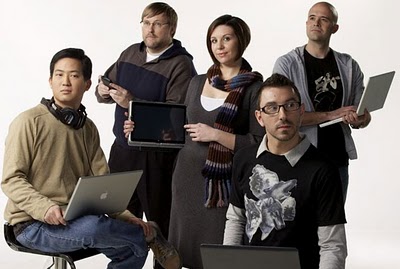 Hint: he's Chinese.