From Naked Eye magazine, photographed and transcribed from the newsstand by Allan.
Enjoy.
~O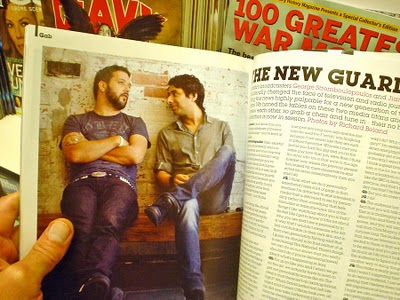 Jian: George you have changed the face of the CBC. You've never backed down and you've never stopped believing in what you could do! You never started dressing in a suit and talking differently. Basically you've proven people wrong. You've gone from "where does that guy fit in" to being the face of the CBC, all from determination and belief. That is really impressive because it had never been done before. It's really hard to fight the forces of people who are trying to stop you from changing things, and I so consider that an inspiration.
George: Thanks, Jian! So what are you up to right now?
Jian: My main focus is my show. Quite frankly that is something completely different on CBC radio, it's got a big audience and I'm excited that what we've launched here seems to be really working. We do arts, entertainment and culture and it doesn't do it in a bite-sized red carpet way and in the process I get to explore bands, artists, authors, actors and architecture in Canada and it's a really great opportunity.