Sent to me by another avid reader who was inspired by the Pretty Lady Approach.
Enjoy.
~O
Remember Newfoundland weatherman Karl Wells?
Not sexy, despite the "ass tattoo" Facebook group.
He retires, and is replaced by Krysta Rudofsky.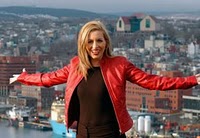 Much sexier!
to host "Living NL" (they're still trying that damned concept? argh.)
She has her own FB fan group, already
It seems that Wells' temp cutie of the month Krissy Holmes wasn't hot enough.
I'd date her, though.
And lordy! Did you check out that Lara chick that will host Exposure? (Premieres this Sunday) with that nerd?
They've recently peppered YouTube with 15 second spots of her being adorable and vapid:
13 seconds of host Lara and a turtle

awfully cute and enthusiastic
Headband
Bubble gum
How do you spell that rrrrrrrrarrr sound?
————
And all this is before Magid gets through with us!