The last installment of Allen's Gill Deacon Trilogy.
~O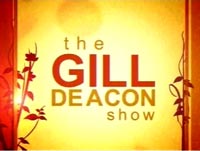 Really, I was thrilled to see Gill and the crew in person when I volunteered last week. I didn't want or ask for or expect anything.
Today's first audience did a little better.
Let's see.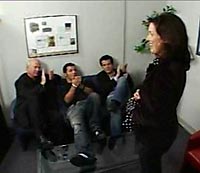 A book.
A CBC belt buckle.
A gift certificate from The Bay.
A Cranium home edition.
H'or deuvres served on a tray.
Nice.
And to be honest, I didn't leave entirely empty handed.
I still have that sticky name tag that says "Visitor," in both official languages.