Coming home from the pub last night I was a little wobbly and did a double-take when I saw the latest issue of eye on the seat next to me.
I used to enjoy eye. Then they went and wrecked it by cutting loose their good writers and implementing a bloody awful redesign.
The article is not bad, but it's the graphic on the cover that's the real curiosity. I consider myself a connoisseur of defaced CBC logos. Some of them are quite clever. Some of them are crudely clever. This one gets a failing grade. Not only are there too many pieces, but it's 90 degrees off. The thing in the middle is supposed to be a "C." It stands for "Canada," you see.
One interesting phenomenon the article points out is the popularity of the retro CBC logo t-shirt among hipsters. They seem to be everywhere, and Flickr is full of pictures of good-looking people wearing them.
Rightly so. It's an op-art piece of genius, made by Burton Kramer in the 70s. Kramer's firm went on to design the signage in the TBC, and now the Toronto street signs. I guess he ran out of good ideas.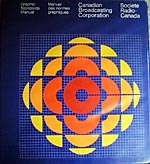 On a trip to Ottawa Head Office years ago I stole an old "Graphic Standards Manual" from the office of some functionary when he went to take a Fournier. It's an interesting document, outlining the "Corporate Identification System" for the CBC in the 70s. We call this "branding" now. Did you know that they invented the shade of blue used for the background? They did. It's called "CBC Blue," and can make it by mixing "Reflex Blue with 1/2 part Black."
The book is full of pictures and diagrams of envelopes, memos, microphones, signage, station id's, and even sheet music. But the highlight, surely, is the plan for the CBCmobile.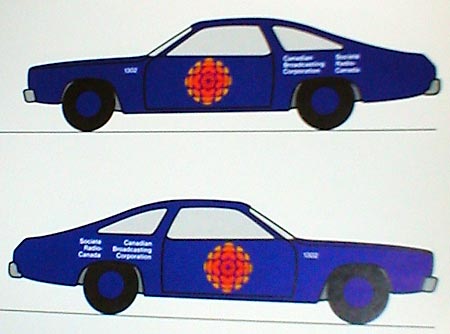 Damn. Now that's a sweet ride.