Regular readers know that I've taken my fair share of shots at CBC.ca. But can you blame me? This is a place where "the BBC does it this way" gets the last word in too many discussions.
Comparing the CBC to the BBC is natural, and I've done it myself, but not entirely fair, for many reasons, and don't get me started on that. But our fetishization of Britain's public broadcaster has always struck me as embarrassingly colonial.
Of course the BBC has much to teach us, but doing what they do because they're the BBC is not always the best way to solve problems. Especially when it comes to the web.
The omnipotent Joe Clark tipped me off to this blistering post by former BBCi'er Tom Coates, where he wonders what happened to the many great plans BBC new media announced over the years, to much fanfare.
The Creative Archive, making the entire BBC archives downloadable?
The iMP, the BBC's own P2P application?
BBC Backstage, allowing webheads to repurpose content for noncommercial use?
The BBC Programme Catalogue, allowing text searches on all programs?
All of them unfinished, on hiatus, or dropped. With few explanations.
Tom lays the blame squarely at the feet of Ashley Highfield, director of new media, an uncannily Galipeauesque figure who has thousands of webheads under him, is a great champion of "bbc.co.uk 2.0," but can't seem to find the "Rotate" button on flickr.
Last Wednesday Highfield was promoted to Director of Future Media and Technology in an effort to make the BBC "the most creative organisation in the world."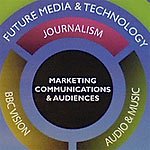 Just look at this crazy diagram of the restructuring!
But here's the interesting thing about it: there's no "TV" or "Radio" department at the BBC anymore. They're replaced by "Vision" and "Audio & Music," divorcing the content from the platform. This means you might watch video on the telly, your computer, your cell phone, or a billboard. Throw in "Journalism," and that's the whole of the BBC.
Sounds nice and simple. Or does it? The BBC's own report on the restructure breaks down halfway through, becoming an existential series of unanswered questions:
Will we stop talking about radio news and television news? Or radio drama and TV drama? Will they become audio drama and video drama instead? Or just drama?
They also got rid of their "New Media" department. Individual websites will now be built by the programs themselves.
Astute CBC employees may recognize this structure. This is what we do. And we all know how that turned out. As Paul Gorbould writes in the very good article, CBC.ca prehistory, what happened was
There was an explosion of interesting and diverse web content and experimentation, but it appeared as a motley collection of seemingly unrelated sites, characterized by brand confusion and internal political divisions … Far from being user-friendly, CBC.ca was organized according to the territorial battles of the day.
A mess so convoluted that it took 5 years to fix. And they still aren't done.
I can't help but read all of this and wonder if, when it comes to the BBC, we haven't been worshipping false idols all this time.
Our clowns are clearly just as good as their clowns, for one.
Maybe the message here for the BBC is to shut up and stop promising what it can't deliver?
After all, the CBC does it that way.