One of the CBC's new reality shows is Dragon's Den, where entrepreneurs apply for venture capital.
Wait, where are you going? Just listen to me for a sec.
One of the biznob consultants keeps an exuberant, confusing, kinetic blog that also acts as a kind of production blog for the show.
Q: Why would you be a good bet for the Dragons to invest in?

A: I have built a strong reputation as a product launch specialist in the global technology and consumer products industry.
But it's not all like that. Some of it is fun. He goes to Kitchener. Producer Owen Leitch wrecks a CBC van. He drops hints about who the investors are (the owner of the Drake Hotel, the Kernels popcorn guy, etc).
But what really caught my eye is that one of the applicants is White Cowbell Oklahoma.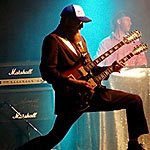 Now, Toronto hipsters are probably sniffing with derision, but the first time they saw this band they no doubt said "holy shit" in spite of themselves, just like everyone else. Their live shows are exuberant, confusing, kinetic affairs featuring loud guitars, topless women, and acts of destruction.
Q: Why do you want to be on the [Dragon's] Den?

A: Because we are a nine man southern fried rock army, hell bent on world domination!
This show might actually be good.