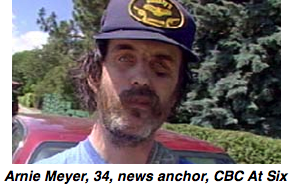 (July 14, 2010 EhNews) Responding to major changes announced for news anchors at both CTV and Global, the CBC quickly pushed aside Diana Swain to grab the headlines away from its competitors.
The Corporation chose to boldly hire the first person they saw walking down Front Street.
"They think that hiring a woman to be a news anchor is something different. We'll show them different" said Richard Stursberg, Executive Vice President of Important Decisions.
When asked if this was part of a continuing trend of hiring simple, uneducated people as begun with George Stroumboulopoulos, Strusberg dismissed the idea, saying, "I frankly don't care about this local content nonsense part of the CBC. The kind of people who watch our programs are already pathetic, and even worse are the profits."
The announcement comes the same week that the CBC cancelled further production of their new game show "So You Wanna Be A News Anchor", citing reports that even the production crew were falling asleep.
where will the Peter Mansbridges and Pamela Wallins of tomorrow come from?