No one expects every media personality to declare their political views, or even share an opinion about a news event.
Just because a person is a celebrity doesn't mean they're obligated to get behind a cause or a mission.
We can't all have minds and consciences like Brad Pitt, George Clooney or Sean Penn.
Nor is everyone prepared to pay the price for free expression as did Vanessa Redgrave and many others.
But when you lay claim to writing editorials and opinions for some of the biggest newspapers in the world, then it's a curious thing when no one in your own country can name one thing you stand for.
All anyone can say for sure about Jian Ghomeshi is that he's a cheerleader for more funding of the arts. Not surprising really, since he's an eager recipient of much of that funding. And it suits his current job, exploiting and promoting the fame of other artists.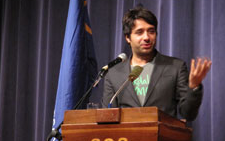 But as a man who proudly carries the dual identity of an Iranian-Canadian, and feigns to be viewed as a political intellect, he's sure silent when it comes to the more real and serious issues.
Ashtiani, 42, (a mother of two) will be buried up to her chest, according to an Amnesty International report citing the Iranian penal code. The stones that will be hurled at her will be large enough to cause pain but not so large as to kill her immediately.
But Jian finds enough time to Twitter about himself and Macy Gray, as if it mattered.
As if it mattered at all.