Look, I went into journalism to do journalism, not advertising. My views are critical but that shouldn't be mistaken for hostile – I'm just not a stenographer. There is a body of work that shows how I view these issues but that was hard-earned through experience, not something I learned going to a cocktail party on fucking K Street. That's what reporters are supposed to do, report the story.

~ Michael Hastings, author of the Rolling Stone article "The Runaway General"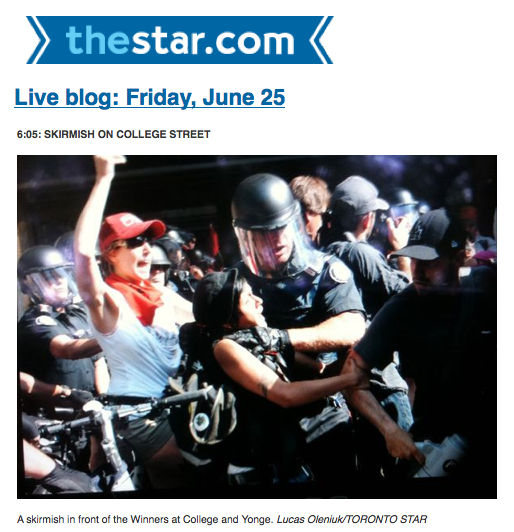 (fantastic photograph – great coverage from … a newspaper!)
You may have heard that there's a big story happening in Canada this weekend.
The journalist we need is the one who is embedded with the G20 protesters in Allan Gardens tonight. The one who can give us an insight into who they are and what motivates them. The journalist that will live and march along with them, and be there throughout the length of The Summit, reporting on what it's like to be in the centre of the action.

So where is one of the CBC's "most respected journalists in the country" these days?