So just what is the CBC News HUB?
Well, one thing it is is a way for CBC News to allocate resources to journalists. Say you need an interview for a story you're doing. You would submit your needs to the HUB and content would be doled to you in priority.
Who knows, you might not need that interview at all. Maybe a TV voiceover would do. Or perhaps a vintage 7-UP commercial?
The CBC News HUB is also a step closer towards the IKEAization of news. When you're building an IKEA bed, you need some screws. You don't need your own special screws, you just need some screws that will work on your bed. Who cares where they come from? IKEA sorts out the screw thing, you concentrate on making the bed.
And IKEA, in its wisdom, might realize that those screws will also work in a night stand. IKEA might reuse that kind of screw, but the point is: you get screwed.
At the same time, the CBC News HUB is a way to concentrate money, time and resources on what really matters: breaking news. Breaking news, above all else, comes first. This is what the Magid consultants told us Canadians want.
So how's this working out, then?
We can see for ourselves. Results of an internal survey of national CBC radio reporters were leaked to The Tea Makers today. What do these journalists think of the HUB?

I see. But what about the news? Is the broadcast better?
Although surely your Tweets can't be beat?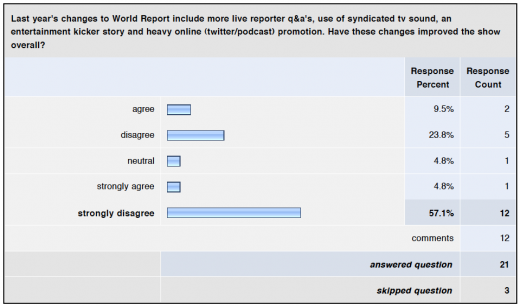 But there must be something good to come out of all of this?
Now, I'm sure some of you are saying: "So what? These old guys will complain about anything," and you might be right. These geezers enjoy their complaining. So does anyone who works at the CBC. It's only natural.
But a lot of these written responses ring true to anyone who has spent any time in any part of the Corp:
I, like many other CBC Radio people I talk to, have never been so discouraged and dispirited. My skills are being wasted, and the only challenge in my working life now is dealing with the incredibly increased stress level. I don't see opportunities to do strong journalism. I feel I work for a corporation that no longer understands public broadcasting, that cares about ratings and revenue more than content, that no longer understands that CBC has done such amazing work in the past because smart people wanted to work here, could feel proud of the work they were able to do. That's no longer true, and I am now planning my exit strategy, along with a lot of other smart people. I never thought I'd leave CBC, was proud to be a part of the best journalistic team in the country. I no longer feel that way.
If you ever wondered what a national radio news service in its death throes looked like, just skim this report, there's plenty of blood and confusion there:
Worst time in my years as a National Reporter. Strike that. It was briefly worse when they locked us out, gambled our credibility with the audience, and sullied the reputation of journalists by taking out full page ads declaring us to be "unreasonable".
But this is a close second.
CBC National Radio News Reporter Survey – Full Report
11am April 21 update – More details on this at Now the Details.