It would be awkward for anyone at the CBC to publicly condemn the actions of a competing broadcaster.
But this is not a matter of business or politics, but rather of prejudice.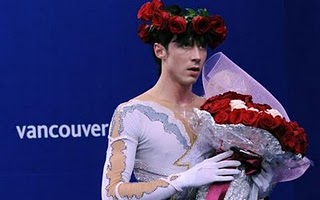 When Johnny Weir took to the ice in the Men's Figure Skating competition last Wedneswday, two male talking heads from RDS were ready to add some colour to their commentary.
"This may not be politically correct," Mailhot said during the segment, in which Weir, who is known for his extravagant performances and fashion flair, was shown sporting a semi-sheer, pink-and-black costume he designed himself.
"But do you think he lost points due to his costume and his body language?"
Goldberg replied that Weir's feminine style may reflect badly on other male figure skaters.
"They'll think all the boys who skate will end up like him," he said. "It sets a bad example."
"We should make him (Weir) pass a gender test at this point," Goldberg said, and Mailhot then jokingly suggested Weir should compete in the women's competition."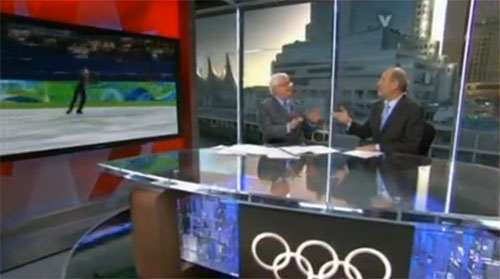 Claude Mailhot and Alain Goldberg
RDS is owned by CTVGlobeMedia, the parent company of CTV, and describes these two men as "veteran sportscasters".
Later, the two apologized, and RDS issued a statement:
"All discriminatory statements, or those appearing discriminatory, have neither a place in society nor in media.
Mr. Mailhot and Mr. Goldberg made tactless comments on the appearance and manner of a figure skater. As soon as they were made aware of the reaction their comments sparked, and because they never meant to defame an individual or a sexual orientation, they decided to offer an apology."
But this runs a little deeper than just talk.
It demands that RDS do more than issue a statement.
It must walk the talk.
These two men deserve to take a break, and become edumacated.
And very, very quickly, before they're allowed to be broadcasting again.
They prove that being an adult, or being on TV, doesn't necessarily mean that you're either smart or grown-up.
Or even understand the fundamentals of human rights, let alone fair play.
It also makes you wonder why there aren't other and equally competent people available.
You'd think there'd be at least three or four other people in la belle provance who could do television sports for a while.
Why not give a few rookies a chance, RDS? You can't lose any more credibility than you already have by allowing these two men on the air making stupid remarks.
And could you remind us again, RDS … how long ago was it that we celebrated Toller Cranston and his achievements.

And to this day honour him as one of the greatest Canadians.