In 1969, Lou Reed looked right at me
He and I go way back.
A little more than 40 years to be exact.
We met at a drab hotel on Denman Street in Vancouver, overlooking English Bay.
Lou and I sat on the floor, him eating from a box of Sunkist Raisins while  I held up the microphone from my Sony cassette tape recorder.
The other two guys and one girl from The Velvet Underground just listened.
The conversation lasted more than an hour, talking about Warhol, heroin, astrology and Ouspensky.
The interview was printed in the local underground newspaper, and is now long forgotten.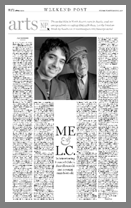 If only I had known then what I know now, having studied at the Jian Ghomeshi School of Perpetual Self-Promotion.
Why, today, I would be … almost famous.
And I'd know who Ouspensky was.
Posted to commemorate Jian's interview with Lou earlier today, on the phone from New York.