Alan Hawco and his friends had it all figured out.
An idea for a TV show set in their own neighbourhood. They would write it and act in it. And they believed in themselves, that they could actually do it, and make it work.
It would be an original creation, from, by and about the people of St. Johns, Newfoundland.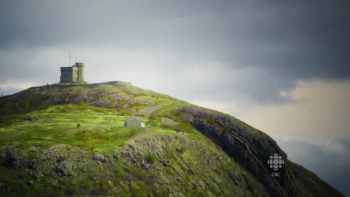 They approached the CBC, got the go ahead for a pilot, and showed that indeed they really could pull it off. CBC brass smelled hit, and the Canadian homegrown angle served their purposes to a tee.
The Corporation would finance production for one season with an option for more, so that if the show failed to attract viewers it could be quickly forgotten, but if it succeeded, the cast and crew were already locked into a binding contract they had signed when it was either that or unemployment.
CBC would gladly hand over the millions needed, but there would be a few strings attached. The CBC would be in charge of the show. The big city folks would tell the little city folks what to do. Take it or leave it.
Among other things, Alan had to agree to a new lead actor being brought in from outside, and not use a local in a key role. From way outside. An actor from Ireland that Alan had never heard of. This would presumably help foreign sales.
A bit of a bummer, really. It put an end to any fanciful dreams of ever being able to claim that Canadians, let alone Newfie's, were capable of doing this successfully on their own.
But, hey, it could be worse. You take what you can get and move on.
If you want to whine about it, go to Vancouver for a sympathetic ear. There, they also have a very special feeling about taking orders from Toronto, of being told they're good, but not quite good enough.
Otherwise, why would anyone need Toronto?
Our story could end there, but there's a further tale to be told that we can all take a lesson from.
Hawco was also advised that even though he and his friends had created the story, the characters and also written the pilot script, he "should" begin interviewing other writers. Writers from (there's that word again) "outside."
And guess who got the call?
That's right. Our favourite know-it-all screenwriter, Denis McGrath.
And Denis is a smart boy. He could see what anyone could see. A chance to get on board The Republic of Doyle train could mean a five year meal ticket, and possibly the unspoken glory of being writer for what could be the flagship drama show of a national broadcaster. Being the envy of his peers wouldn't hurt either.
Thanks to his award-winning blog, we can let Denis pick up the story from here …

April 21, 2009
Allan Hawco, one of the show's creators and its lead actor, is a young actor who's already an old hand at the business. He's got smarts, passion for miles, and a clear, infectious sense of the show he wants to see — and how he wants to see his city presented. It's a show that's pure entertainment, that's going to feel fresh and fun — and it's going to be a love letter to St. John's to boot.

Even before I went to Newfoundland, from the very first meeting I had with Hawco and his producing partners John Vatcher and Rob Blackie, at an extremely generic Jack Astor's in downtown Toronto, my spidey sense said that these guys were kindred — all looking to do a show that's work worth doing, and worth having a lot of fun doing it. Then Hawco and I sealed some kind of mojo-devil magic at one of the craziest nights I have EVER had at The Paddock.
Once I met Perry Chafe, Hawco's writing partner, and jawed a bit more with Malcolm MacRury, who helped them write the pilot, and we got down to breaking story, I started getting really excited. Anticipating a new show is kind of like falling in love that way.

So there it is. I've drunk the KoolAid. Harrrd. Next week I'm on a plane to St. John's, and hopefully, touch wood, all goes well, I'll be there most of 2009, doing the thing I love, and helping other people to do the thing they love. It's a good life, I think.
Who could have known that of all the writers in Canada, Denis had such a deep empathy and passion for the East Coast? Why, this is almost his destiny. He goes on …
Your life prepares you for things in funny ways. I've been in this place before — poised to go somewhere utterly new to write a chapter of a new adventure. For years now, I've harboured a kind of fascination for Newfoundland, that didn't just begin and end with The Shipping News.
We can almost picture these moments that he describes so well, visualize the expression on Alan's face as he listens to the hyper creative salesmanship of Denis using the power of his words to make that kindred connection. We can see the wheels turning in Alan's head as he slowly consents to hire this competent windbag just to get the CBC off his back about yet another of their demands.
In due course, Denis did indeed arrive and got into the full swing of production.
There was genuine excitement in the air. The show had everything needed to be a hit, and Denis saw his role and brain as a vital component.
He was also developing a fascination with a new word that was being bandied about in production circles, a word not yet familiar to everyone in the industry. And that word was "showrunner," a word not clearly defined, and rarely seen in the closing credits. But Denis was certain that he knew exactly what the word meant, it couldn't be more obvious. In fact, staring you right in the face. A showrunner is obviously the person … who … runs … the … show.
Duh. And double "duh."
All Denis needed to do was enlighten Hawco and his partners to this newer reality, that the CBC was still the boss, but this guy they'd hired was in fact … in charge. Certainly, according to the dictionary.
And how did this new brotherhood, this kismet moment between two soul mates, McGrath and Hawco, work out? Bill Brioux makes reference to it on his blog …
October 31, 2009
… Not that there haven't been speed bumps along the way. That swine flu outbreak was costly and set production back a week. The early departure of showrunner Denis McGrath and other scribes came at a critical point. Hawco and Co. found a way past it. Nobody said making a TV show was going to be easy.

More on all that later.
Of course, when someone says "more on that later," it often really means more on that "never," which is where it stands today, more than two months after Bill wrote those words. Glossed over. Conveniently forgotten. And it helps to know that Bill and Denis are in their own mutual admiration society.
Production of Republic of Doyle began with the first shot, precisely at 8:12 A.M., July 6, 2009.
In less than one month, Denis was back in Toronto, suddenly finding his busy schedule freed up once again to devote time to his beloved blog.
What happened???
Again, we turn to Denis to find the words to write on his own behalf and explain the climactic moment.
August 4, 2009
here's the part where I tack on and bury the footnote in the lead of the much bigger story:

In the first few weeks of Production, I saw a crew who worked flat out no matter what. From the A.D.'s to the Art Department, to Locations and Props — some of the nicest, most hardworking people I've ever had the pleasure to work with. But, after three months that were alternatively thrilling, tiring, and frustrating, I left the employ of Republic of Doyle about 10 days ago, (weirdly, just before all of this started. And no, ReGenesis fans — all thirty-eight of you — there's no connection.)

In my time in St. John's, I oversaw the breaking of about ten stories. I also kept the promise I made to have drafts of six scripts done before we started production, so I feel pretty good about that. And I've got one more script to write from here, from my home in Toronto.

I've had friends say to me for awhile now that even when we don't talk, they feel they're caught up by reading the blog, and suffice to say this is one of those situations that put the imperfections to that little theory.

There's no dirt, nothing really to say, except for perhaps the larger truth made self-evident to me in the last few months. In the USA — the system that still produces 85% failures for 15% worth of successes — the Showrunner is the Quarterback of the creative vision of the show. It just doesn't work as well any other way. And there simply wasn't the time or the inclination or the creative trust that would allow me to do the job effectively.

The worst thing you can do in series TV is to get into a disagreement about how variant and competing processes would lead to a final product. So I got out of the way. And now, the task of Showrunning falls to the Co-Creator/Lead Actor/Executive Producer of Doyle. I wish Allan Hawco and his Producing team the best, and wish them all creative success — just as soon as they get through the really important task of getting their team well, and back up and running.

Fingers crossed, and all good wishes to my Newfoundland friends and colleagues. I enjoyed your company so much, and I hope you all get well, stay well, pace yourselves, rally, and pull together to make great TV in the months ahead. I'll be rooting for you.
This concludes our story.
Take whatever you lessons want from it, and consider checking out the new show, Wednesday nights, right after Dragons' Den.