Confessions of a Santa: (clip 4)
"Mrs. Claus, not only my wife but she's also a witch.
Yeah, I didn't believe it until I saw her give birth to a fucking reindeer.
Scared the shit out of me."
(that's the entire clip)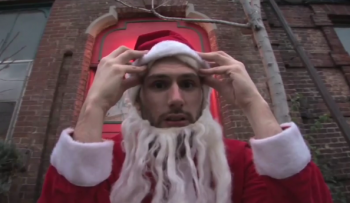 The CBC calls it a HOLIDAY VIDEO, part of the cheery web page Holiday Guide.
It's broken into 5 parts, all equally, horribly stupid.
A compilation of parts 2,3,4 and 5 can be found here.
It lasts 1:36, but it won't take you that long before asking "what on earth went through someone's mind to put this out before the public?"
And who is Scott Goodyer.