Update! CBC's continued effort to make its work environment a manifestation of  Charlie Chaplin's Modern Times.
CBC has decided to install GPS tracking equipment into its News vehicles. No longer just happy telling News teams where to go they now want to see how they get there.
Although the exact model of equipment is not known here are some of the basic feature GPS tracking software offers.
playback of daily activity ( starts and stops)

how long you've been stopped at a particular location

engine diagnostics including speed

standard with a sniffer for those of you who break wind as you drive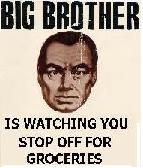 Feel awkward having to tell your employees that you no longer trust them. Don't worry. The vendor that CBC is buying from offers an 8 pg info packet with "the tools you need to properly handle any objections you may encounter". So sleep easy at your desk.
As for you. You probably thought you were special cuz you were lucky enough to drive a beat down Chevy van with 2 fat heads stuck to either side. Well the glory days are over for you. No more laundry mats  or stopping at the local java hut. Get back to the building asap slacker! Sit yer ass down next to the rest of us perkless. Perks are for your own time we can't afford them here.
Safe travels this holiday season!