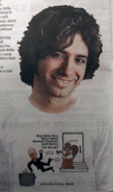 Jian The Hyphenated Human sees the opportunity to make a few extra bucks as a rent-a-speaker. But trying to come up with a sellable topic is proving challenging.
May we suggest "Why I Should Have Won Best Interviewer Gemini Instead Of Strombo".
At least begin writing that next CBC bestseller "What To Do When Your Career Peaks And You're Not Even 40 Yet. Please Tell Me".
Nah, too long. Stick with "Billy Bob & Me".