It was a show that celebrated the individual, in the certain belief that within just one person we could find all that redeems humanity.
There was a time when the CBC actually exhibited evidence of having a soul.
And a conscience.
The conscience was the courage of This Hour Has Seven Days.
But the soul was Man Alive and Roy Bonisteel.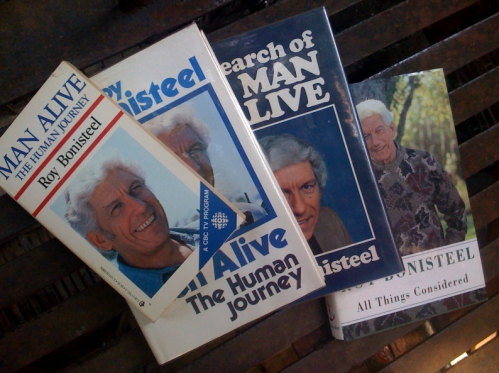 Today, it exists only as a few random clips in the forgotten corners of the CBC Archives, and in the aging memories of a generation that first watched television in black & white.
Seemingly lost forever is perhaps the most treasured interview ever done by any broadcaster. The one Roy did with Sondra Diamond.
Today, the CBC lives almost entirely on the celebrity, the superficial, and the fake.
Canadians are valued only for their newsworthiness, their crimes, or their athletic achievements.
And we are to believe that no one would give us the slightest attention unless we're standing next to an American movie star.
More than at any other time in the history of the CBC, it has become almost entirely focused on ratings, and a confusing struggle to keep up with technology.
No one stops to ask why are we doing any of this.
Is it all just to provide distraction?
Is it all about reporting the horrors of the world, and then follow it up with an exhibition of tap dancing, to say that ultimately nothing really matters at all?
It's become more about catching attention and eyeballs than capturing hearts and minds.
It's become more about cashing a paycheque and "covering your ass" than being a light in the darkness.
It's become more about restraint and efficiencies than about freedom.
We podcast and stream and webbify the life of a country, willfully elevating the shell of the medium above the value of the individual.
We wave flags and invite the world to our doorstep.
But what do we feed them when they come inside?
Content.
Without a conscience and without a soul.
Just another day on the airwaves, and now "pages," of the CBC.