Steve Pratt? Isn't he the overseeing organism of CBC Radio3, the guy who's an expert at recommending you Canadian music, and the new-media visionary? Yes he is, and good lord that Metro article was some fine tripe.
Thanks, AboutCBC! Keep me posted on your app!
WTF? Some kind of simul-tweet? And is this the royal our here, or is Tod Maffin making iPhone apps for CBC Radio now?
Aha, so jonwinagan has something to do with this. Props well deserved. How soon is soon, by the way?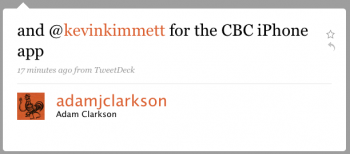 Yes, kevinkimmett should get some credit as well. It's only natural, for such an outstanding app.
Kudos all around!