Only in Canada, it seems, does a fundamental principle of broadcasting not apply.
Only in this country of a largely unmotivated population could a broadcaster get away with continually putting someone on the air that does not attract an audience. In fact, someone who actually repels an audience.
No show has ever succeeded with Evan Solomon on it.
But the CBC will not let go of him.
And Evan appears to think himself entitled to on-going employment, as if he had signed a lifetime contract.
Even a meaningless filler of a show on a Sunday TV time slot that has virtually no audience will still fail with Evan as the host.
And in another example of skewed judgement, the same broadcaster that will hold auditions and choose Barbara Budd to voice the great As It Happens, will take a guy who always sounds like his collar is too tight and so can barely get out a sentence, and deem him acceptable as the sole announcer/interviewer for the national radio show The Current.
And, come fall, this person will suddenly transform into a charming, genial game show host.
The next Fred Davis.
Someone, apparently, no, obviously, thinks that there's such a thing as finding the right show for Evan. That he's indispensable. That he will one day, as if by magic, suddenly attract an audience. That there is no one else in a country of 40 million people who is better suited to the task of being a presenter for a national broadcaster. Not at McGill, U of T, SFU, UBC or Carleton. Not anywhere.
But then someone also thinks that if the National Post just keeps doing what it does day after day that one year it will suddenly begin to make a profit.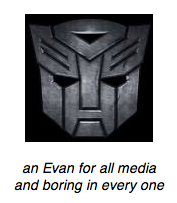 The same magical thinking that has the CBC believing that anyone wants any more of Evan Solomon.
Ever again.