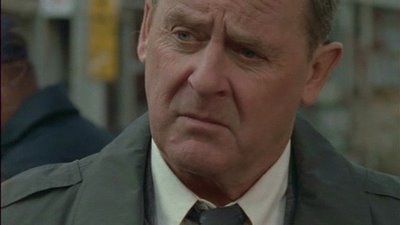 Peter MacNeill is one of the most accomplished actors in Canada.
He is respected by every other actor in the country.
You saw him on the 11th Hour. Never used at his full potential.
He's had bit roles in many Hollywood-type movies, ones mostly shot in Canada.
You may have seen him in Kevin Costner's Open Range, or as a regular on Queer As Folk.
Peter has that hardened look of having lived a deeper life.
His presence on stage and on screen is the epitome of Willie Lohman in "Death of a Salesman", he comes across as wise and tough, but caring if need be.
Every actor in Canada would stand up and say Peter MacNiell is as good as it gets, on this side of the border at the very least.
Every actor would gladly share a scene with him.
He's competent, credible, and charismatic.
In other words, his ability to act is never in question.
And that's why he has been, for some time, a successful professional actor.
When you take an actor like that, and put him in the role of a detective, a man with personal problems and foibles, you have a role that's made for that man, and a man who's made for that role.
And every actor in Canada will concede that holds truest of all in this case.
The perfect actor for that role, and the perfect role for that actor.
It is only as an aside that it may be mentioned that he is Canadian, that he is from New Brunswick.
To have one of, if not the, primary roles in a good TV series can be the turning point in anyone's career.
The "Da Vince" moment, that makes an actor or actress an identifiable national fixture. Or call it the "Erica" moment.
Yes, rejections are routine, and plentiful since the acting profession is basically a succession of part-time jobs forever.
That's show biz.
But having a chance like this being taken away after you've been cast once in a dream role, has got to be a bit hard to take.
And for what reason was it taken away?
What reason is the CBC giving for depriving an accomplished Canadian actor of a role he can so naturally and competently fulfill?
And fulfill it likely better than any other actor in Canada.
This particular role.
The answer has absolutely nothing to do with his ability.