The odds are always in favour of failure, as Dr. William Glasser will tell you, if not life itself as it does every day. Success can only be drummed up up to a point.
But predicting is a mugs game. There's no way anyone knows the future for sure, let alone that it really really was true that the entire economy and government was a sham. Who knew?
Everyone. And kept their mouths shut.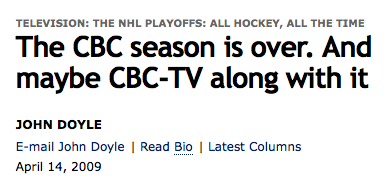 Doyle takes the provocative (hey, this is after all about selling newspapers), yet mild risk of predicting the end of CBC Television.
And no surprise, he contradicts even that view by concluding that his prophecy for the CBC TV is that it will be … wait for it … "Same as it ever was".
But CBC TV will not fail, even if it deserves to.
Nor will it be the "same as it ever was' because it was once really great, though that seems a long time ago now.
It was great because in part it was the only game in town. It didn't have to compete with anything else. It could concentrate on just putting on good shows, the best they could figure out to do, while still trying to figure out how to use the medium itself.
But that changed, especially with the growth of two other aggressive networks who didn't have to worry about offending the government. The success of private businesses is always in the best interests of the government, a nosey Fifth Estate is not.
The rise of the internet put further pressure on the CBC, or maybe a better analogy is that it let the air out of its tire. With a vastly growing field of choices people were less and less interested in or impressed by the CBC. And nor did they need the CBC as much any more, except for news. And that's good enough coming from the radio.
Everyone knows that CBC TV is in trouble (and yes, it's all George's fault), and that was true long before the recession.
So change is inevitable.
But another change overtook the CBC that was not inevitable.
And it is what has hurt the CBC more deeply and profoundly than anything else.
The campaign to become popular.
Not good, just popular.
And we saw the result, as John describes in his article.
The CBC lost credibility. It became a disappointing joke. The country experienced a slow souring about the way they were seeing themselves being portrayed on the air.
As wannabe rock stars, whether pushing aside The National in favour of The One or the relentless hyping of a cheap show and declaring George and all that he is as being the embodiment of the soul and spirit of the CBC.
A bubblegum journalist gets all the attention.
The CBC throws their fortunes and brand into one basket. A basket lined with Strombo 8 X 10 glossies.
No wonder the real reporters are so lifeless and disinterested. They don't matter any more.
In its drive to become popular, the CBC ignored its soul, ignored the real reason it even exists.
To make us proud.
Not to make us think it's all just a game of people prefer one color branding over another and want lots and lots of jokes and sexy melodramas.
The CBC is not that good at that stuff.
Please don't tell me The Border was good. The most obvious thing about it was that it was never good enough. It was no Da Vince and it was certainly no American contender.
All the CBC has become good for is hockey and news, the two things it can be the very best at doing.
I predict that CBC TV will never be the "same as it ever was".
It can't survive that way.
And it will survive because we will insist that it does. And will do it ourselves if we have to.
But it will also have to get real. And that goes for George too.
As soon as he figures out what the term means.