They're always a little bit behind, but any day now there should be an update to the Business Travel and Hospitality Expenses of the CBC's top executives.
The pattern has been to post them three months after they've been submitted, and to only display the past twelve months.
That means the receipts submitted for Richard Stursberg during the last three months of 2007 are about to disappear from public view.
Seems a shame to let that happen.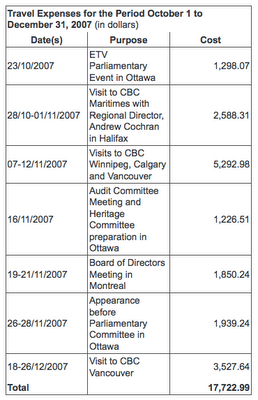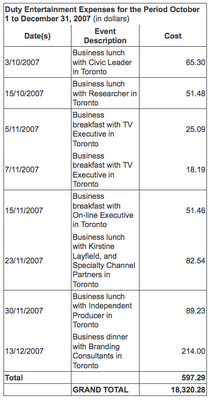 Stursberg's expenses are of course necessary and vital to keep the Corporation running smoothly. And we look forward to a fresh list of bills for travel, meals and hotel accommodation. Particularly for the remaining months of 2008, when executives were first alerted to financial crises the CBC was facing. Word had it that it was in early October when top brass was notified that the shortfall was already at $30 million.