Down into the cess-laden twit-pit we go! Hopefully Twitter can provide some much needed context on the whole Billy Bob / Jian flap that has taken the world by storm …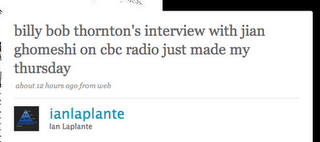 As Don, Peter and Shelagh always used to say, "happy Thursday!"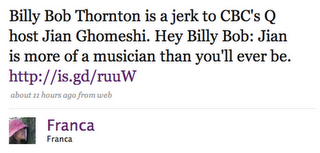 Wow. Brave twittering, Franca. I heard Jian beat the shit out of the last person who mentioned his music career. 

Holy crap. Somebody give this obviously beleaguered CBC employee an EAP fridge magnet, quick!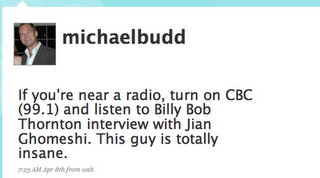 Dude, I just tuned in to 99.1 right now, but I'm not hearing the interview. Do you have an audience relations dept. that I can send a bitchy e-mail to? 
Uhhuh, the most painful truncation of the archaic english word 'interview' u'll vr reed awn-l1ne! Buddy, didn't you study 1984 in grade 10 English?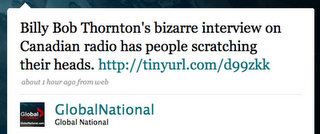 RRRGHG!!!! I'll tell you what I'm scratching my head about – the name of the fucking network that this interview aired on! Especially after your reporters did that axe-job on our 'luxurious' indoor smoking rooms. Don't make me hit CAPS LOCK, Astral Media.
p.s. – We know how many 'GPs' and Hammy Hamsters got killed flying around in that miniature airplane under those hot studio lights. But that's another story … 


… and then an astute Twitterian uttered the word PWNED and all was right in the world again. Remember, ill luck may befall if you don't retweet this seven times!
Apologies to the admittedly much funnier Anonymous auter of past 'twit-tiques'