For all the pretensions the CBC makes about being into "the arts", you really have to turn anywhere else to find out what's going on.
You can walk into HMV and see new Canadian artists, new movies and new video games being released every week.
Over to the World's Biggest Book Store and you'll see a dozen new titles and nearly a hundred magazines. New books about Canadian politics and culture, new come-ons on the covers of Maclean's, Hello and Walrus.
But for a TV and radio broadcaster that's on the air 24 hrs. a day, how much of any of these items and news about them do you ever hear or see on the CBC?
Almost the entire arts coverage of the CBC has to do with what falls into their lap, and absolutely nothing about going out and getting stories and keeping viewers up to date.
If a business wants to sell something, and issues a formal press release or invites reporters to a rented venue for tuna sandwiches and champagne, the CBC, along with the other lazy media sheep, is happy to oblige and report/promote the product with a mention on the air.
It gives them easy, digestible content, and at the end of the day, they feel they've done everyone a favour.
What if all journalists and reporters went about their duties in such a way?
I open up iTunes on my computer and see a section titled "Canadiana."
Click on it, and a whole world of new releases appears.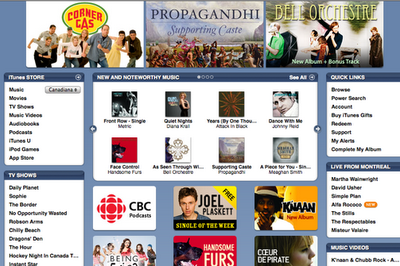 But 99% of what's out there will never make it to air, because the CBC doesn't care. It's too much work.
For all the varied products and entertainments that comprise my leisure life and the interest of most of the adults I know, they might as well not even exist from what I see and hear reflected by the CBC.
For a channel called Newsworld, it seems to live in a very narrow world.
Will they tell me what the top selling songs in Canada are, let alone play short clips from each?
Does any reporter ever go into a bookstore and just randomly discuss the many new titles on display?
Is there a regular technology feature that previews and explains new and current products? What's selling big this week?
The strategy of the CBC seems to be that if I want to know about new books then I should listen to Radio 1.
If I want to know what that "Propaghandi" CD is all about I guess I'm supposed to listen to Radio 2 or 3.
By fragmenting into so many different platforms, the CBC has taken the approach that human beings are one-dimensional, and obsessed with only one thing, to the exclusion of all others.
How is that any kind of realistic approach to a real world and real people?