Another day, another Doyle column, without logical or meaningful connection; disjointed; rambling.
Even trying to decipher and to write about his trivial, arrogant views is like finding the Rubik's Cube falling apart in your hands.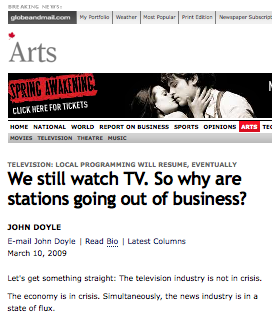 John wishes newspapers "good luck", but it's the reader that will need plenty of it to wade through his confusing arguments.
Today it's something that's "a matter of scaring the local and national power structure".
Huh?
There's a commonly held view that the current CBC is on a path of dumbing down its otherwise academic prowess. Along with diluting its courage and focus.
But why shouldn't the CBC pretend to be dumb?
The Globe & Mail does it every day by putting forward John Doyle as someone whose thoughts and opinions are of some value and import.
Could it be a national malaise, or just an artifact left over from an era when a very stupid man was allowed to run the most powerful country in the world?
Whatever.
We deserve better.