Been looking at your blog, Paul.
The one you do at the behest of the Corporation.
The one with thousands of work-hour hits.
With follow-up notices about pension plans, and executive announcements.

(copyright Tod Maffin?)
I would think that the Naked City of the CBC holds a thousand stories, without ever having to mention Canwest even once.
Is it that you can't find them, or too lazy?
Have you considered looking at your posts and measuring how well they live up to the title of your blog?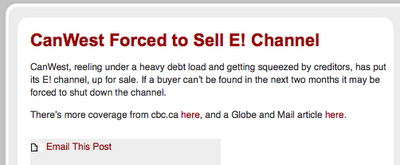 Again, you step outside the CBC to fill your blog.
Do you enjoy gloating about the misery of the competition?
Do you think that people aren't reading the news about Canwest sufficiently?
What's the purpose here?
Do you find it too difficult a task to stay within the parameters of talking only about the CBC?
Are you finding that it's too boring a topic, or one that's just plain too dangerous for an employee to address publicly.
But really, the most important question I'd like you to consider is this one:
What kind of a blog do you think you can write under your own name about the corporation on whom you depend for your livelihood?
Wouldn't that blog be fundamentally, and only, named
Three Cheers For The CBC!