Two nice looking white people.
Who happen to be French.
And Canadian.
But they're not like those other Canadians, the english-speaking ones they refer to as "inbred" and "frigid".
And they're absolutely not racist.
Yes, you can be an executive at the CBC and still be a total fucking moron.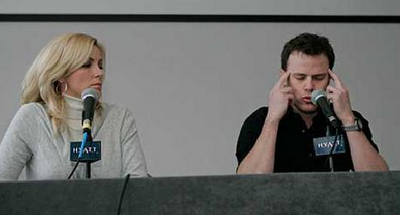 The Gazette
Véronique Cloutier, producer and president of Novem, and Louis Morissette, executive producer in charge of content for Bye Bye 2008, speak at a press conference in Montreal Friday, Jan. 9, 2009