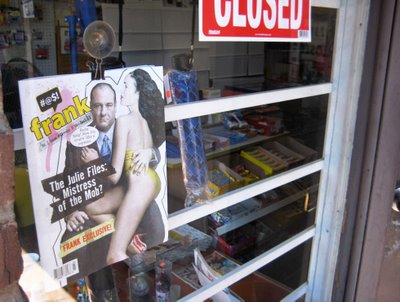 A number of people have emailed me the Frank Magazine story about the demise of this blog. For those of you who haven't read it, an anonymous contributor has kindly typed it out in the comments.
A great story. They all want to know. Is it true?
Of course not. I was quite content to let it go, but the last line got to me:
End of blog–and another triumph for the Corpse thought police.
It was my mom who convinced me to break this silence. The rest of the story might be amusing speculation, she said, but this part is unfairly false. Unfair to me. Unfair to the CBC. Unfair to you, the reader. Yet, in some way, still true.
The truth of the matter is that the president has done nothing but encourage this blog. Did he think it was "destroying employee morale?" Only he knows. He wouldn't be alone. But of course they'd all be wrong.
Keep in mind that in the absence of this blog the president has had the floor. He controls the media lines, TV, radio, and web. He can email every CBC employee with the push of a button. He can read any and all emails sent by any and all CBC employees on company time and networks, if he wants. He employs a cadre of professionals well-trained in the art of communications. These people have university degrees on the subject. He has millions of dollars at his disposal to get his message out.
Me, I'm just a loser with a free blog and some spare time. These days, I don't even have that.
So has CBC employee moral improved in the 3 months this blog has been dormant?
It would be a mistake to believe that the "Corpse thought police" won anything at all. The platform is still here. You are still there. Anyone with something to say can start a blog for nothing. And I've proved to all of you that there's nothing they can do to stop you. On your own terms. However you want.
Respectful or not.