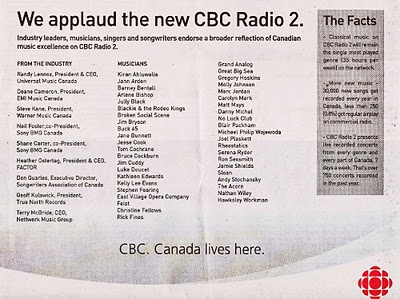 If you're familiar with the tactics of CBC Communications you know that a full page ad in the Globe and Mail is considered by them to be the pinnacle of interaction and indicative of a job well done. Usually it also signifies desperation.
So I was surprised to see a full-pager in the Globe this weekend. Had things gone so badly so quickly?
One blogger estimates the cost of the ad at about $30,000, and wonders if that money might have been better spent on classical music. Why would the CBC spend so much money "trying to convince us how cool their new Radio Two programming will be?"
The answer, of course, is in the names on the list of applauding supporters. These are not classical music people. These are people who will enjoy the new Radio 2. They might be able to convince some other people to listen to the new Radio 2. They might even be able to make a little money off the new Radio 2.
In other words, it's over for you, old Radio 2. You had a good run.
Time to move on.